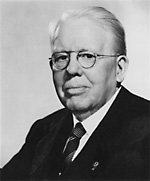 Melvin Jones was born on January 13, 1879 at Fort Thomas Arizona. At age 33 he was the sole owner of his own insurance agency in Chicago, Illinois and became a member of the local business circle. After a few years as a member of the business circle, he felt that as influential businessmen, their talents could better utilized in other areas of community life. After pursuing his thoughts for several years, in 1917 they formed what is now know as Lions Clubs with 27 clubs from within the United States. The Association went international in 1920 when the Lions Club of Detroit chartered the Windsor Ontario Lions Club, in Canada. In 1950, Melvin Jones was conferred the lifetime title of Secretary General of Lions International. Melvin Jones, the founder of the largest international service organization in the world died in 1961.
The Melvin Jones Fellowship was created in 1973 and named for the founder of Lions Clubs International. This fellowship is a recognition of a commitment to humanitarian work and is not an award in the tradition of Lions awards presented for specific accomplishments and is not limited to just lion club members. The fellowship is the foundation's highest honor and represents humanitarian qualities such as generosity, compassion, and concern for the less fortunate.
To learn more about Melvin Jones click here.